Bad online reviews for doctors and dentists can destroy your practice overnight. This can make you wonder, "Do my bad reviews really have an effect on my practice?" Or maybe you are asking, "Are negative patient reviews keeping potential clients from coming back?" These may be some of the questions running through your mind, but it doesn't have to be that way forever.
As a dentist, people often come to you when they need help the most. They're in pain and they need your guidance to find a solution. The last thing you want is for them to leave feeling angry and disappointed with their experience, or was mad at one of your staff.
Would you trust a doctor who had numerous angry reviews online? Didn't think so. Yet, online reviews are a huge part of our lives. Everyone leaves reviews these days and they can make a huge difference to you and your practice.
When a prospective new patient reads your online reviews should their initial impression of you be something to stop them from finally making an appointment with you? Or something to prod them to book sooner rather than later?
Online reviews are becoming an increasingly powerful marketing tool and if you're not taking control of your online reputation you can find yourself losing control of your customers.
A bad review can kill your business and shouldn't be taken lightly. And more and more physicians are feeling the heat of unhappy patients who aren't shy about sharing their dissatisfaction online. It's no secret that negative word-of-mouth marketing is one of the most potent forms of marketing out there.
If you're a doctor or dentist, you've probably seen patients leave angry reviews on Yelp, Google My Business, and other top physician review websites. If you're worried about how those reviews are affecting your practice, consider these tips to improve online reputation: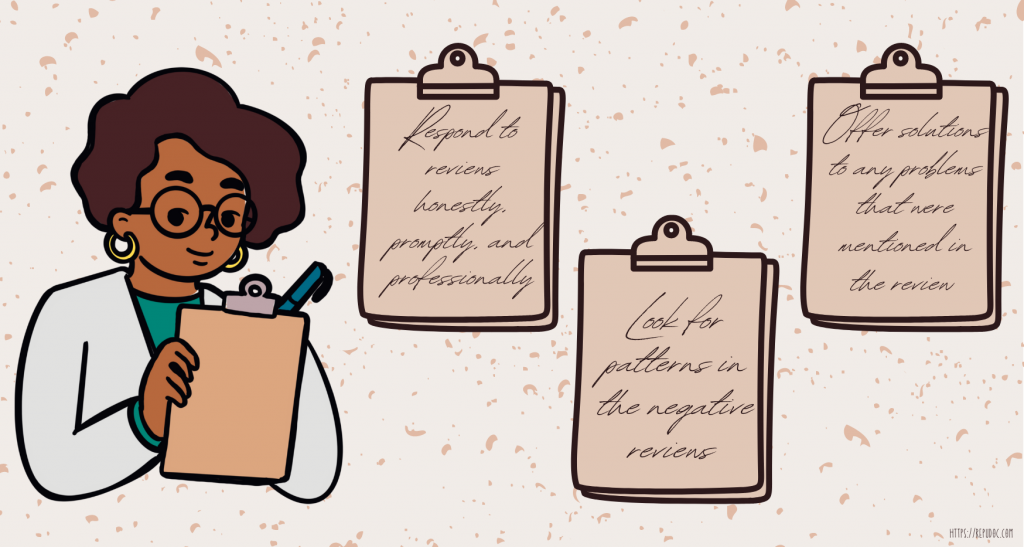 1. Respond to reviews honestly, promptly, and professionally When someone leaves a negative review, take it seriously and apologize for their experience. Don't downplay the review or make excuses – even if the patient was partially at fault for the bad experience, help them understand why they didn't get what they expected from you and how you will do better next time.
2. Look for patterns in the negative reviews
Are there similar themes in the negative reviews? If so, address those issues directly in your response. For example, if several patients have said they thought they were going to get one procedure and ended up with another, there is clearly room for improvement in communication with your patients.
3. Offer solutions to any problems that were mentioned in the review
If a patient mentions that they had difficulty scheduling an appointment, offer solutions such as extended hours or weekend appointments to make it easier for people to see you when they need relief from back pain or an emergency dental situation.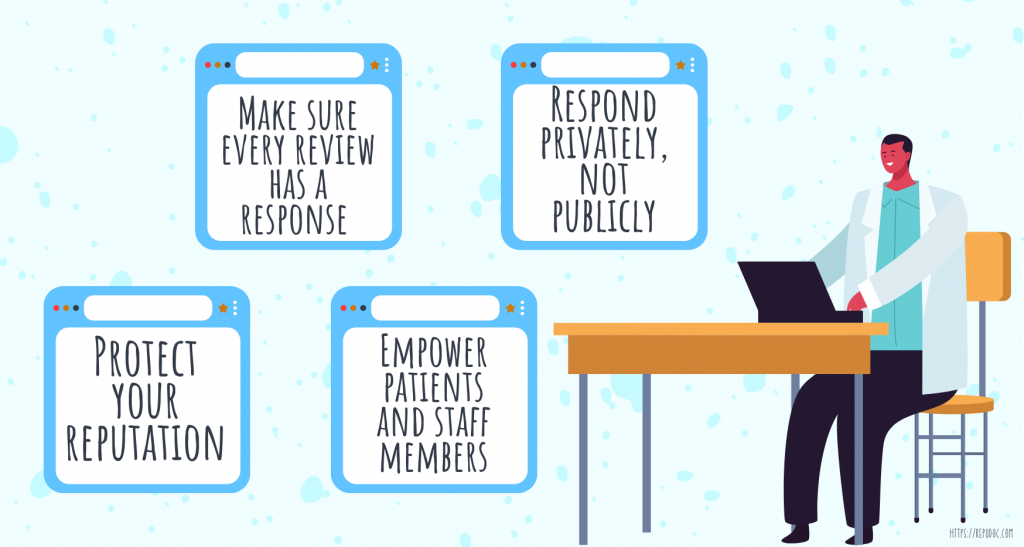 4. Make sure every review has a response
This is one of the biggest ways to boost your reputation on review sites like Yelp. When you reply to a reviewer, you have the opportunity to turn a negative into a positive by addressing their concerns without being defensive or confrontational.
5. Respond privately, not publicly.
There's no need to publicly respond to negative reviews even if you're completely justified in doing so. The point of responding to reviews is to address the reviewer in private and regain control of your online reputation — not start an argument with someone who may have all sorts of unrelated personal problems you don't want to get involved with.
6. Protect your reputation.
Start by making sure that your staff understands how important it is to protect patient privacy above all else, even if the comments they read are nasty or untrue. And always remember that any review, positive or negative, is an opportunity to learn and improve. Your reputation depends on it.
7. Empower patients and staff members.
Take the time to explain why online reviews are important for your practice's reputation — not just for you as a practitioner, but for everyone who works there — and encourage them to share their positive experiences with friends and family online. The more positive reviews you have, the more likely others will feel comfortable sharing details about their own positive experiences at your practice.
Consider using an online reputation management system like Repudoc to help collect reviews and keep track of them throughout your practice's website. It helps you manage your online reputation so you can spend more time delivering great service and less time managing reviews.