Videos are a crucial part of your marketing plan for your medical business and professional healthcare practice. Most people are more interested in watching videos instead of reading traditional written content like blog articles with just an added images related to the topic. Videos are more detailed, easy-peasy, appealing to the eyes, and give more excitement and encouragement while watching and listening to video content. The Youtube website is one of the most effective platforms to upload your videos and it is used by a lot of physicians, as it can provide comprehensive knowledge to individuals while building your credibility, reaching your target audience, and the opportunity to earn money online with a primary objective to improve your online reputation as a healthcare professional. 
To be able to achieve the effectiveness of your video marketing you must have appropriate video marketing materials to create good and high-quality videos. Investing in these video supplies and software can be expensive but it gives a good return on investment (ROI) to your business.
You will need the following equipment: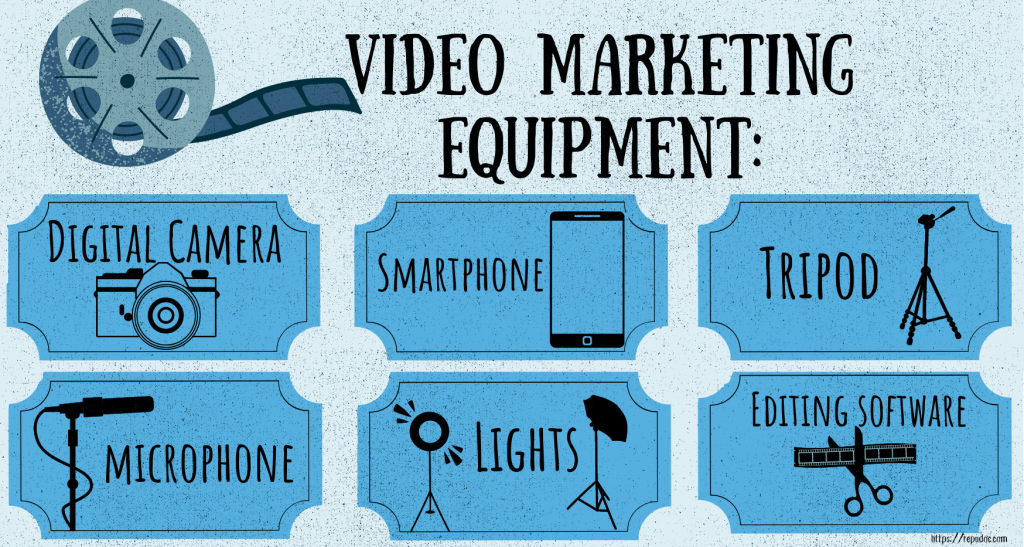 Digital Cameras – this can be an option if your phone doesn't have good video quality or you prefer to have both.
Smartphone – you can use this on filming videos or incorporate it with your digital camera for additional video sources.
Tripod – in any case, a tripod improves picture quality and reduces camera movement by stabilizing the device.
Microphone – there are times that the in-built microphone on your camera is not strong enough to record decent audio if the camera is placed far enough from the subject. You'll need a boom microphone or shotgun microphone for better quality.
Lights – poor lighting may quickly spoil a marketing video. Make sure you have the proper lights and position on set.
Video Editing Software – filming your film is simply one aspect of the process of creating a successful video. The next step can be challenging as you'll need to edit your video. There is a lot of affordable editing software to choose from and that depends on your preference.
Among the most popular kinds of video marketing for doctors are the ones listed below: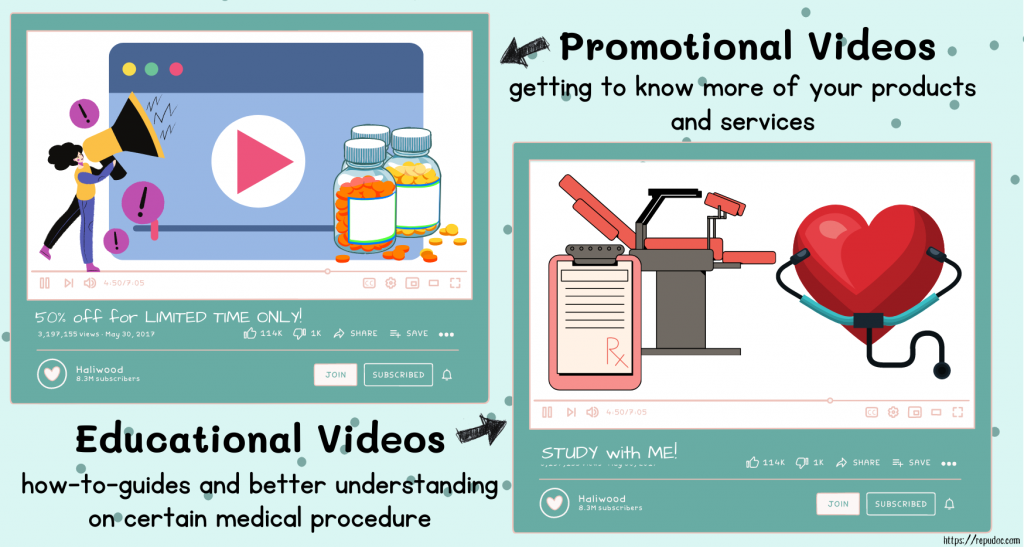 Videos for promotional purposes
It can be testimonials of patients, a discount price when they avail of certain services or treatments, an office space tour, an introduction of your entire team, and a new product or services offered.
Videos for educational purposes
It can be answering patient questions, medical procedures for every treatment or service availed, a step-by-step guide preparation before and after the medical procedure, and how to prevent or take care of a certain thing or situation.
You educate certain individuals to have a better understanding of your products and services. Services supplied by your clinic may be more complex than those offered by a skilled competitor. More patients will be attracted to your clinic if you create these kinds of video marketing. You get to explain these treatments and their advantages and your online reputation management is not just improving but your name and business appear on Google search rankings.
Boosting your business and healthcare practice reputation with better feedback and 5 stars reviews is an opportunity to shine brighter than your competitors.
Related articles to visit:
Content Marketing For Healthcare Practices
Successful Healthcare Blogging Techniques

GET YOUR FREE DEMO today!