Every review that a doctor, dentist, or other healthcare provider responds to should include HIPAA-related disclosures as described by the US Department of Health and Human Services.
What is HIPAA mean? HIPAA (Health Insurance Portability and Accountability Act) is a law passed by the United States Congress in 1996. The HIPAA Privacy Rule and Security Rule were designed to protect the privacy of individually identifiable health information and to set national standards to protect that information from unauthorized use and disclosure.
When responding to patient reviews it is good to remember that HIPAA guidelines are in place to prevent information from being shared beyond what is stated in the review. There are specific rules that the reviewer must follow. The following are HIPAA guidelines one should remember while responding to patient reviews.
Ensure the patient's privacy is protected.
There is no question that you want your reviews to be positive ones. But, when it comes to patient privacy, it may make more sense to leave out the details in the review and in the video. This means that you should not mention the patient's name, date of visit, diagnosis, treatment, and test results in your response. The safest and most appropriate way to respond is to specify that you will not answer the review. You understand the temptation to vent and defend yourself. But, when in doubt, step back and refrain from posting anything. You can ask your hospital's communications department for guidance. This scenario can be especially frustrating for small practices that rely on online reviews to shore up their online reputation.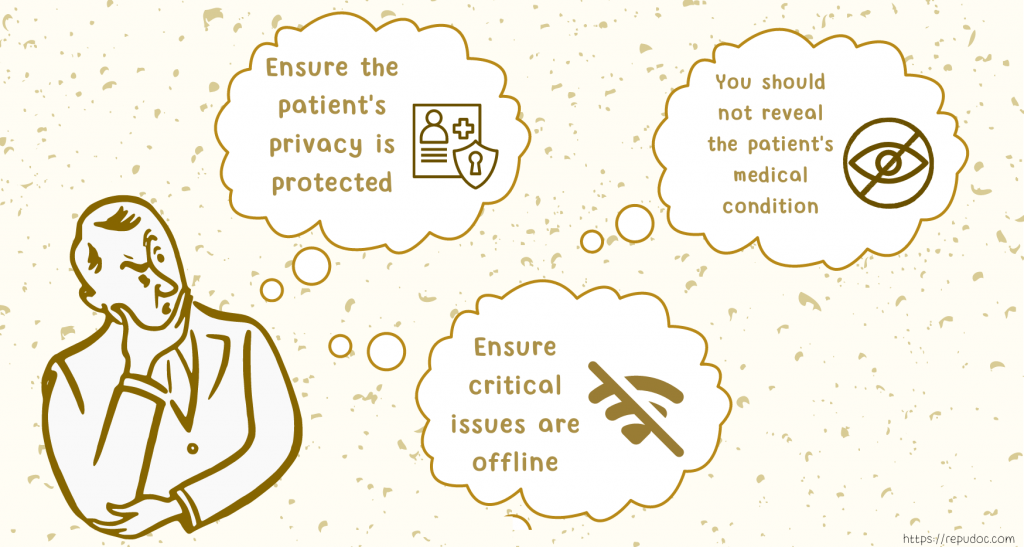 You should not reveal the patient's medical condition.
Doctors have a lot of experience with interacting with patients. But online, doctors are strangers to a lot of their patients. Patient reviews are the one-way patients get information about doctors. Even if the patient discloses their diagnosis, the doctor violates HIPAA guidelines if their response repeats the information. The most basic hack is to avoid. You may want to know also the Do's and Don'ts of Online Physician Reviews.
Ensure critical issues are offline.
When a patient posts a feeling of urgency online, chances are good that you will feel tempted to respond right away. This impulse is understandable, but it may backfire. The best course of action is to message the patient personally or to request that they contact you via phone or email. You can include your contact information in your response and even invite them to visit your medical facility.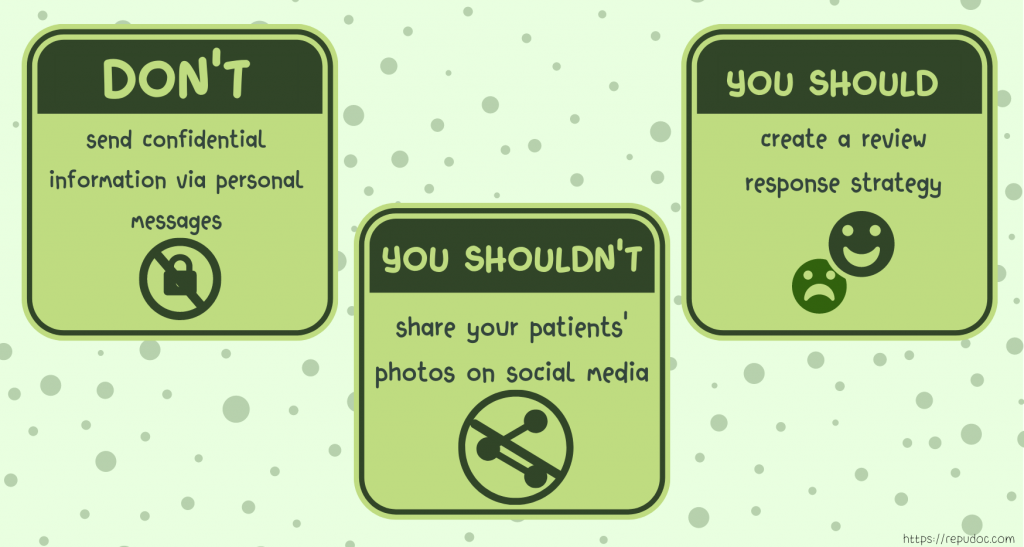 Don't send confidential information via personal messages.
Opportunities for violating a patient's privacy online practically invite it, but getting trapped is easier than you think. Sharing confidential information via personal messages is against HIPAA regulations, and could lead to major fines and penalties. You can address negative reviews and concerns through direct contact channels, such as email or call.
You shouldn't share your patients' photos on social media.
Many patients want to share their pictures and stories on social media. This is understandable, but sharing pictures of a patient's surgical site, particularly in a nude or semi-nude state, is extremely risky. Patient privacy is an important issue today. It is a HIPAA violation to share your patient's pictures on social media.
You should create a review response strategy.
Medical professionals are the experts in their practice, but patients are also smart and savvy. When they post negative reviews, they are giving you an opportunity to show them that you are listening and that you are willing to work with them.
Work with your team to develop a policy for responding to various types of reviews while adhering to HIPAA guidelines. Analyze various scenarios to identify various types of patient reviews. Create standard response templates for each scenario after careful research.
Make your online reputation management a chill pill as Repudoc allows you to monitor online reviews and respond directly to those reviews. It also lets you promote positive reviews on your own website, so patients can review you on their own. GET FREE DEMO today!